---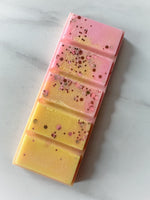 Thousand Wishes features a warm mix of fruity and floral notes combined with the scent of musk, sandalwood, and amber.
Ingredients: Soy wax, fragrance oil, & mica powder 
Our wax melts are made from the highest quality all natural soy. Easy-to-use no flame, wick, or water needed. Simply pop out one of the cubes and place onto the top of your wax burner.  Wax does not evaporate so once there is no longer fragrance, allow the wax to cool then remove.