---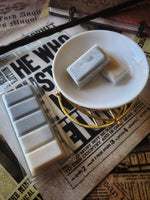 Please come in and take a seat, tell me, what is on your mind? 
While you are sitting in the Headmaster's office, indulge in the scent you would only imagine to be status and masculinity that is wrapped into a blend of bergamot with fresh lemon zest and rich tobacco leaves. 
Our wax melts are made from the highest quality all natural soy. Easy-to-use no flame, wick, or water needed. Simply pop out one of the cubes and place onto the top of your wax burner.  Wax does not evaporate so once there is no longer fragrance, allow the wax to cool then remove. 
Ingredients: All natural soy, fragrance oil, candle dye, & glitter