---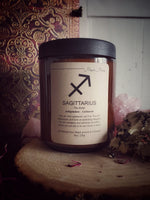 Sagittarius: This very optimistic and fun group lives life cape diem style. They are enthusiastic and love an underdog situation. Energetic and adventurous, people with the sign Sagittarius are not to be tied down in spirit or in their fragrance likes. This freedom loving group is captured by scents that leave an impression.
Our zodiac candles are carefully blended to cater each unique sign to match their best strengths, which means every zodiac sign has their own signature scent!
Our zodiac candles would be a perfect inspirational gift for yourself or friends and would be a great addition to any zodiac collection. 
Ingredients: All natural soy & fragrance oil 
8oz Soy Candle