---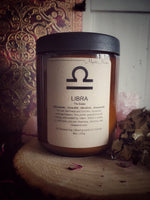 Libra: Libras are laid back and flexible, constantly seeking balance. They prefer peaceful social settings surrounded by others. When it comes to affection, they are charming, amorous, and compassionate. People of this sign admire balance and harmony in their fragrance accords making the scents that they fancy ones that artistic yet stabile.
Our zodiac candles are carefully blended to cater each unique sign to match their best strengths, which means every zodiac sign has their own signature scent!
Our zodiac candles would be a perfect inspirational gift for yourself or friends and would be a great addition to any zodiac collection. 
Ingredients: All natural soy & fragrance oil 
8oz Soy Candle