---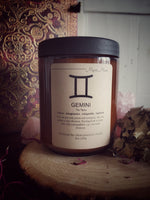 Gemini: This intellectual group is not only polite and energetic, but also adaptable to any situation. Dueling both a chatty side and a sympathetic ear, people with this sign need diversity. Gemini's have a true admiration for fragrance oils that present a contrast but still manage to come together to make a beautiful aroma.
Our zodiac candles are carefully blended to cater each unique sign to match their best strengths, which means every zodiac sign has their own signature scent!
Our zodiac candles would be a perfect inspirational gift for yourself or friends and would be a great addition to any zodiac collection. 
Ingredients: All natural soy & fragrance oil 
8oz Soy Candle