---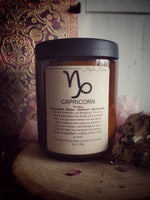 Capricorn: This resourceful and disciplined group are natural born leaders that should not be messed with. Staying even keeled even during the most chaotic of times, this group's ambition allows them to lead a path through the most difficult of times. This group is known for getting things accomplished, working well as a team or alone. These commanders are prudent in their decisions, always thinking of the future.
Our zodiac candles are carefully blended to cater each unique sign to match their best strengths, which means every zodiac sign has their own signature scent!
Our zodiac candles would be a perfect inspirational gift for yourself or friends and would be a great addition to any zodiac collection. 
Ingredients: All natural soy & fragrance oil 
8oz Soy Candle