---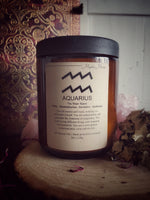 Aquarius: The people under this honest and loyal sign are everyone's friends. This independent group appreciates the differences in the normal and welcomes the freshness of originality. Aquarians love trying different things and ever changing environments. These well spoken communicators are crisp and electric just like the fragrance notes they cherish.
Our zodiac candles are carefully blended to cater each unique sign to match their best strengths, which means every zodiac sign has their own signature scent!
Our zodiac candles would be a perfect inspirational gift for yourself or friends and would be a great addition to any zodiac collection. 
Ingredients: All natural soy & fragrance oil 
8oz Soy Candle